New Doubt Feature In Adda247 App | Check FAQs
Adda247 best faculty members, exam toppers and content team. Wants to know "How"? Check FAQs

Have any question in your mind? Check FAQs
☛Being an Aspirant/ Reader what can I ask?
The platform is dedicated for the competitive exam preparation, being an aspirant you can ask:
How to solve a question.
Doubt related to official notification.
Unable to find important study material, or any other links
Doubt related to any article.
Doubts on interview, documentation or anything
Doubts while solving Quant, Reasoning, GA or English section.
Doubt regarding any product purchase etc.
Apart from the mentioned if you have anything in your mind related to any product, question, free study material, study plan or anything you can now post your doubt on
Adda247 app
for a quick solution.
☛Do I need to pay anything in order to get the solution?
No, the facility of resolving doubts come to you free of cost.
☛How Can I ask the question?
There are four ways to post your query on Adda247 app:
By writing and posting it
By sharing an image
By recording a voice message
By recording a video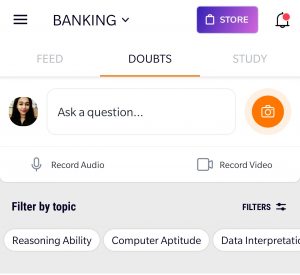 ☛How do I post my query/question/concern on Adda247 for free?
Steps to post your query on Adda247 | Doubt Section :
Open Adda247 App, and visit the Doubt section Feature
After posting any query, you will be asked the related exam like for IBPS, SBI, RBI, General Banking etc.
Select the exam you are targeting: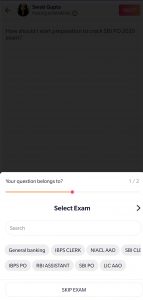 After selecting the exam, choose the subject that doubt is related to:
Post your doubt/concern/query and submit it.
☛Who will answer my questions?
All the queries posted by the aspirants will be answered by the toppers of SBI, IBPS, RBI and best faculty of Adda247 and content team of more than 200+ emliyees will also be engaging with you to resolve your queries.
☛How much time do I need to wait to get the query resolved?
All your queries/questions will be answered instantly.
☛What should I do if I like a solution and wants to review it later?
You can hit like button. Comment and share it.
☛I am preparing for competitive exam, can I also help other aspirants over this plaform?
Yes, you can join the platform to help others to solve their queries by giving them prompt answer. Your efforts will be appreciated.
☛What Other activities can I perform on Adda247 via doubt section?
You can like, comment and even share a doubt over whatapp. If you are the author you can like a comment and even mark it as the best answer.
Guidelines to post a question/query/concern in Adda247 Doubt Section
Everything has some rules and regulation to follow so that none have to face any issue. It is important to follow some rules for a quick doubt resolution.
Posting of any irrelevant images, videos, text or any content is not allowed and strictly prohibited on Adda247 app. Irrelevant or any obscene comment will be deleted. Questions regarding any subject or exam, interview round, tips & startegy, exam pattern, articles, notification are welcome.
When Lakhs of students are getting their doubts resolved why to keep it to yourself now. Have a doubt? Ask it, share it and get it resolved only on Adda247 mobile app.